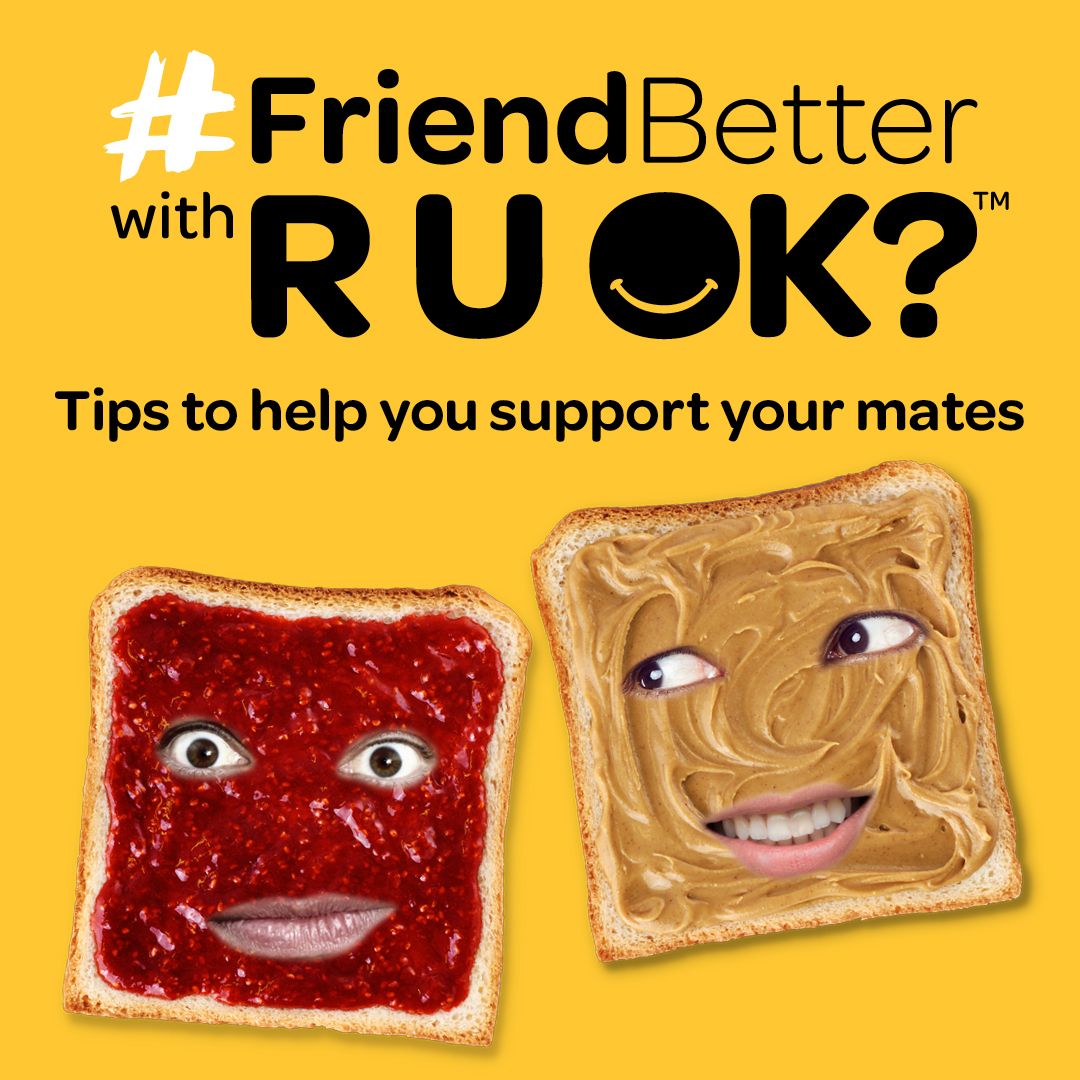 R U OK? DAY - Thursday 14th September
R U OK? is calling on all of us to let the people you care about know you're here, to really hear them. 
By taking the time for an R U OK? conversation and genuinely listening with an open mind, we can all help the people in our world feel supported and connected.
Let the people in your world know you're here, to really hear, because a conversation could change a life. 
R U OK?Day 2023 is Thursday 14  September and is our national day of action when we remind Australians that every day is the day to ask, 'are you OK?' and start a meaningful conversation whenever they spot the signs that someone, they care about might be struggling with life.
Resources
VIDEO 1 - How to be a good friend
Alec and Jenny are mates, but Alec has noticed that lately Jenny doesn't seem her usual self. In this video, we learn how he can be a good friend by talking to Jenny about what might be troubling her.
VIDEO 2 - How to ask a school mate R U OK?
Toby hasn't seemed himself lately and his mate Ella is worried about him. In this video we learn what signs Ella noticed and the steps she followed when asking, 'are you ok?'.
DOWNLOAD - Youth Conversation Guide 
Share this conversation guide with your children to help them navigate an R U OK? conversation and empower them to help the people in their world.
Find Help
It can be hard to talk about how you feel, but is there someone that you trust you could talk to? That can really help.
Kids Helpline (1800 55 1800) is a free and confidential counselling service for young people aged 5-25. You can contact them 24/7 via phone, WebChat or email. 
Lifeline (13 11 14) is also available for a chat, any time day or night, with phone, text and live chat support options.
You could also connect with a trusted health professional, like your doctor. If you need immediate support, click on Find Help for 24/7 services.